Alaska Building
Bermondsey, London SE1
The Alaska Building, formerly the Alaska Furs warehouse, is one of the first 'loft conversions' in London. We were commissioned to remodel an apartment in the original block which had been laid-out in a very awkward fashion.
We created a large multi-use space spanning the whole front section of the apartment. An open-plan kitchen sits on a raised platform at one end of this space with concealed lighting beneath.
To the side of this, new built-in oak joinery provides additional kitchen storage space, and a large central opening, with bi-folding oak doors, and lined with matching architraves and reveals, accesses the bedroom area.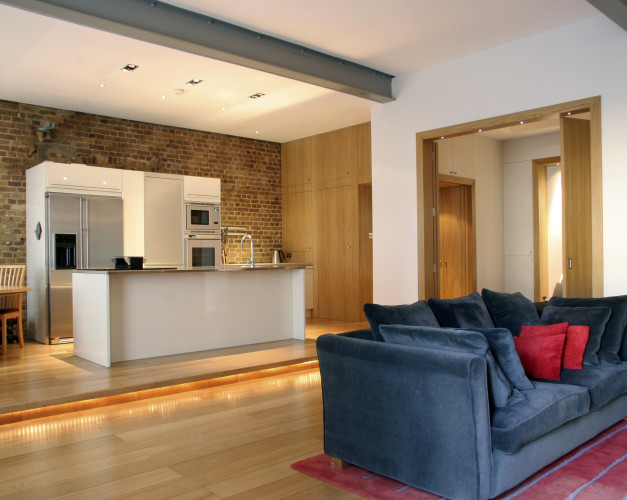 The original brickwork on the front and side walls, which incorporates a number of industrial remnants and three Crittall windows, has been thoroughly cleaned and properly sealed. New gun metal wall light fittings provide some warmth and highlight the original steel beams above.
Folding oak doors can close-off the 'proscenium' opening to the bedroom when privacy is required. During the day, these doors are kept open so as to incorporate the bedroom into the main body of the apartment.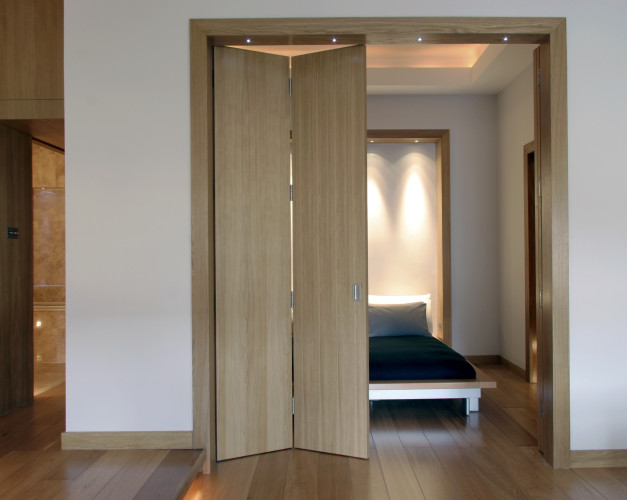 A matching oak-lined recess frames the bed and draws the eye away from discreet white-painted cupboard doors, whilst a sliding door to one side leads to a dressing area. The coffered ceiling with concealed lighting provides a softer ambience in this area.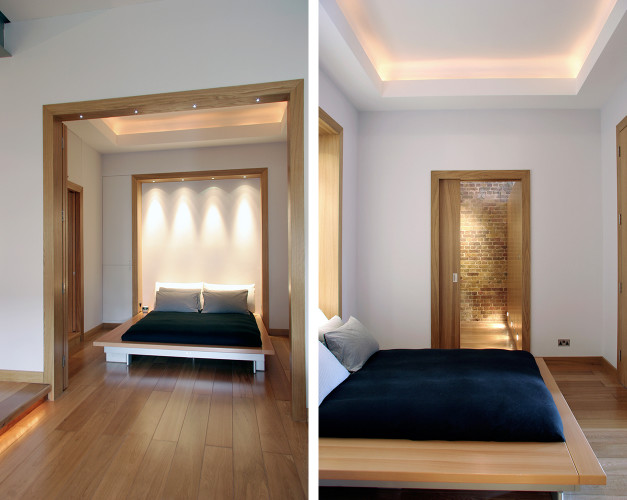 A second sliding door in the bedroom leads to a lobby area and the bathroom beyond. An enfilade has thereby been created running along the whole of the rear, inner section of the apartment, which increases the illusion of space.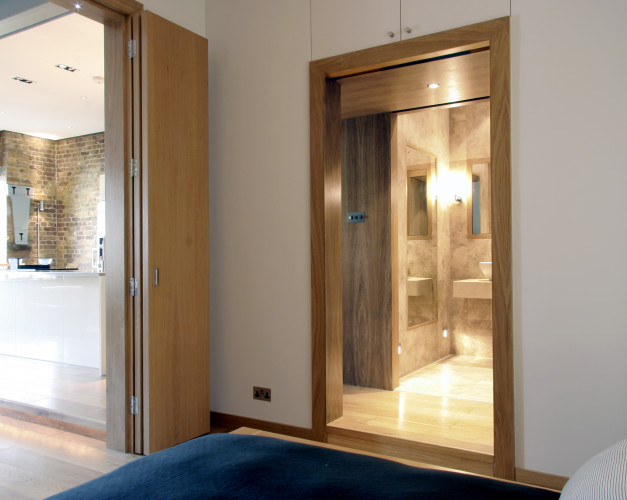 The bathroom is lined with travertine tiling features a built-in ok-framed medicine cabinet, a stone vanity counter, and a full-height inset mirror.
This is the concept design plan, which was largely implemented.
This is a concept design sketch of the main living/kitchen area, looking towards the bedroom doorway.
This is a concept design sketch looking forwards the living area from the kitchen.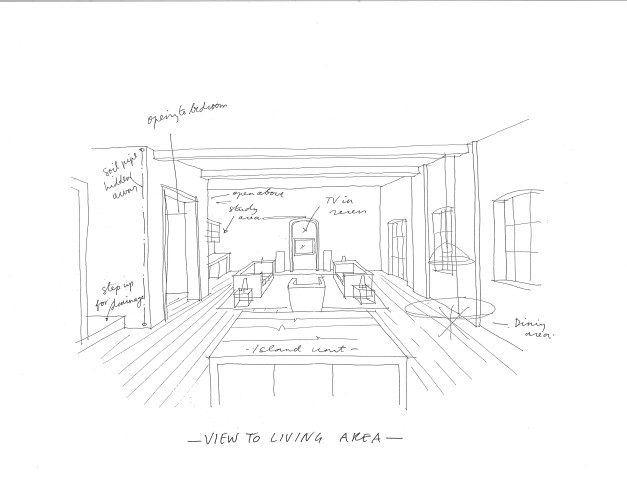 This is a concept design sketch of the bedroom, looking towards the dressing area. In the event, a coffered ceiling was formed in place of the tented fabric shown here.