Guest Cottage
North Cotswolds
The Guest Cottage is the final "piece of the jigsaw" at our largely-completed residential development in The Cotswolds.
A new-build energy-efficient structure on the site of an ugly 1970's bungalow, it takes the form of a timber-clad 'dovecote' wing and a stone 'barn' wing conjoined by a glazed 'link' structure.
Here one can see the cottage in context with the surrounding farmhouse and new courtyard barns.
Construction is due to start at some point in 2022.
The cottage is entered via a low-key glazed 'link' structure which also houses the kitchen at the rear and features Crittall screens with oak lintels.
This leads on one side to a double-height living space with a mezzanine and cut-out glazed corner/terrace within the 'dovecote'. This will be clad both inside and out with vertical rustic boarding, softened by polished concrete flooring.
On the other side, the 'link' leads to a corridor accessing three bedrooms and bathrooms within the stone 'barn' wing. All bedrooms will have angled ceilings following the roof structure.
The 'dovecote' element appears part-folly and part-gatehouse in the landscape; an eye-catcher when viewed from the lane, which gradually reveals itself as one drives around it to the main house. The rustic timber boarding acts as a foil to the cluster of stone barn-like structures.
This internal concept sketch shows a lightweight staircase wending its way up the NW corner of the 'dovecote' to the mezzanine. Rectangular Crittall windows punched into the upper elevations provide some symmetry and take advantage of the glorious panoramic views.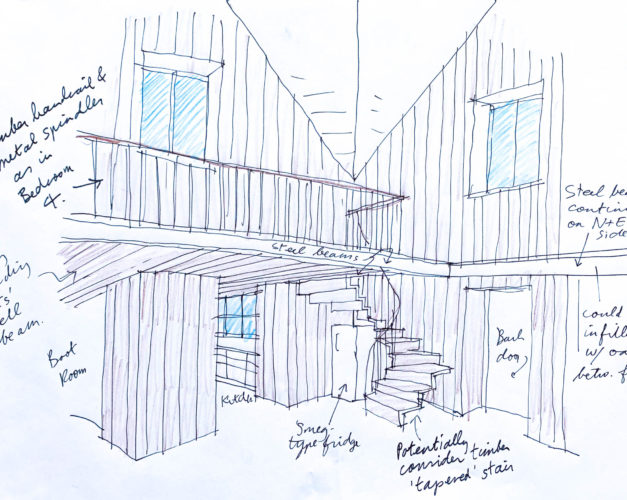 On the opposite side of the space, a cut-out corner houses minimal 'Sky Frame' sliding doors and a covered terrace with the mezzanine above.. A log-burning stove will be positioned in front.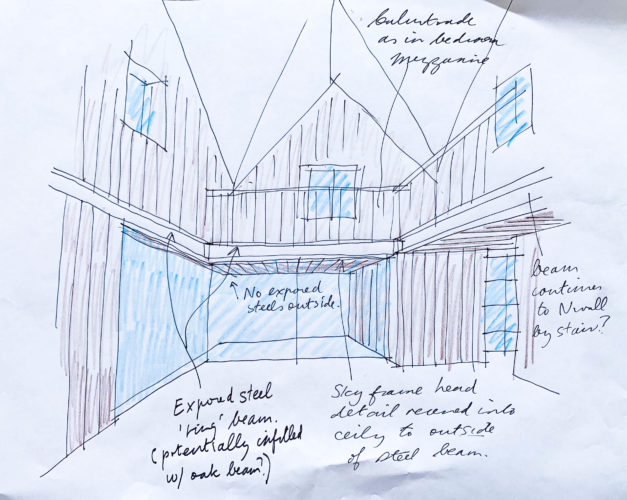 Here one can appreciate the overall shape of the structure and how it has been cut-into at the lower level. Polished concrete flooring helps tone down the rustic wall-cladding and continues outwards to become the terrace and plinth.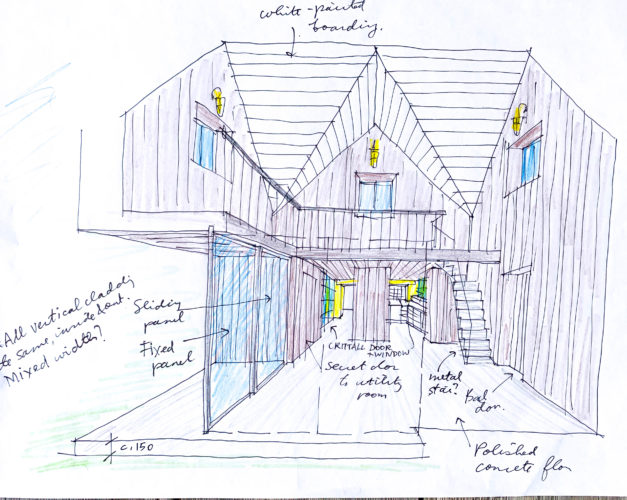 Back in the 'link' structure, a kitchen will be located at the rear with Crittall windows and a boarded ceiling. The stone end-elevation, with an Aga recess, flows outwards to become the external wall of the 'barn' wing.
Similarly, the entrance lobby in the 'link' structure has an opening to the 'barn' wing corridor with ashlar dressings.
There are many historic dovecotes in the area, such as this one at nearby Chastleton House. The Guest Cottage is a contemporary take on this very pleasing and traditional shape.