Heath Mansions
Hampstead, London NW3
We thoroughly refurbished and remodelled this Victorian mansion flat in Hampstead which had not been altered since the 1950s. A more fluid layout was created which respects the proportions of the original spaces.
New walnut flooring and white-painted walls provide a contemporary backdrop to our client's collection of mid-century furniture and artworks. Deco touches include the new stepped plaster cornice, pendant lamp and vintage mantelpiece.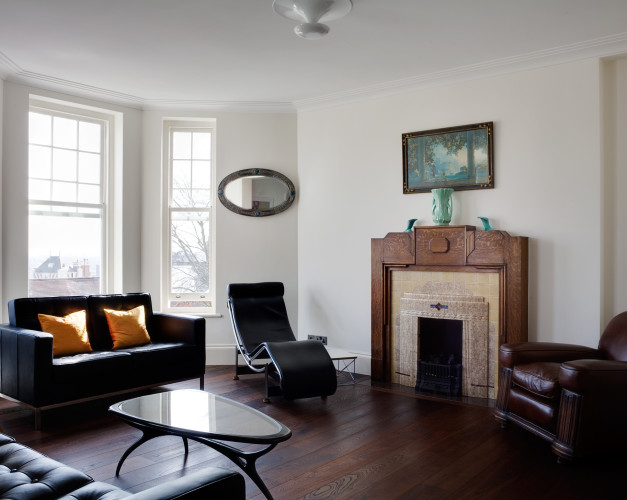 The living room, original two separate rooms, is a handsome east-facing space which benefits from the morning sunlight. The main sitting area is located by the fireplace at one end and a study area, with Vitsoe shelving, is located at the other.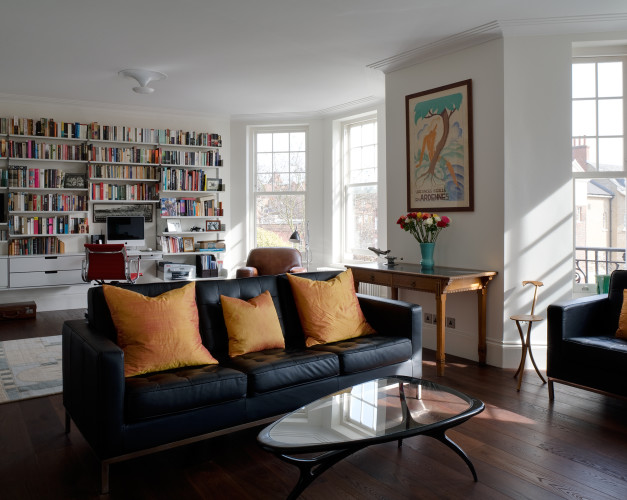 A cozy reading area is located by the bay window at the study end of the living room. This is one of the highest points in London and panoramic views are afforded as far as the Docklands and beyond.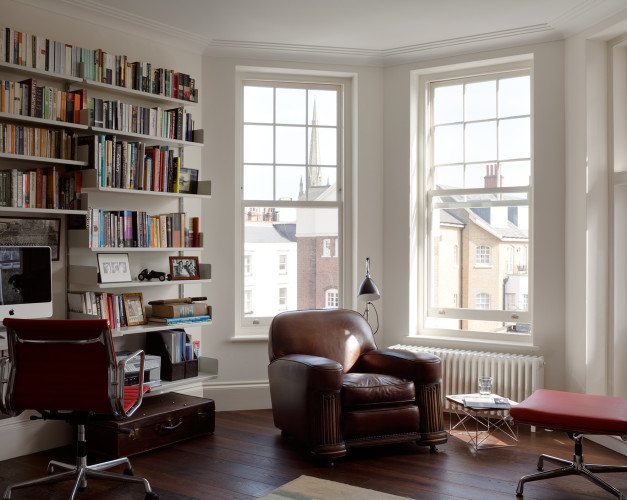 New openings in the living room improve the connections with the kitchen and entrance hall. These also allow additional daylight and sunlight to penetrate these formerly dreary spaces.
The kitchen/diner has been relocated from the rear of the property to the site of a former bedroom next to the living room. We worked closely with Barget Kitchens on the design and layout of the joinery and appliances.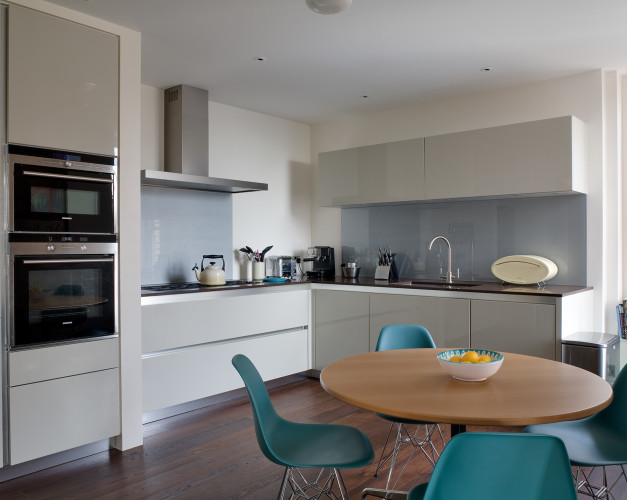 The master bedroom is located on the site of the former kitchen and ancillary areas at the rear of the property. A 1930s four poster bed dominates the room and discreet built-in storage has been provided to either side.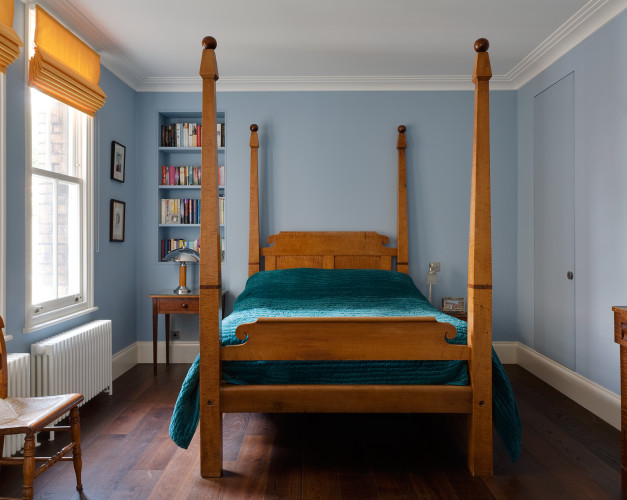 An elegant dressing area has been created at one end of the master bedroom and makes an interesting feature of what was previously an awkward angled corner.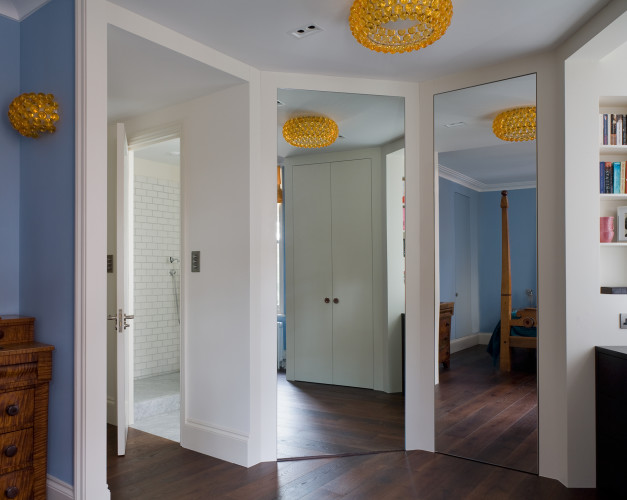 Mirrored panels help bounce daylight around and increase the illusion of space. A built-in walnut chest of drawers has been inserted beneath the corner window.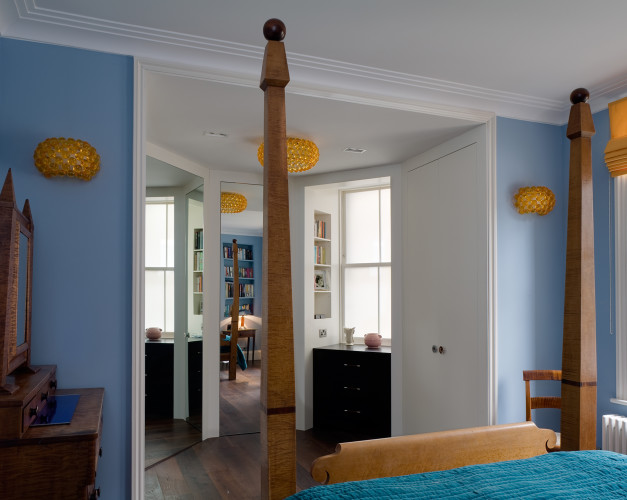 A deco mood prevails in the master shower room with Carrera marble floor slabs, crackle glaze tiles and vintage sanitaryware. The recessed medicine cabinet with a walnut frame provides a contemporary touch.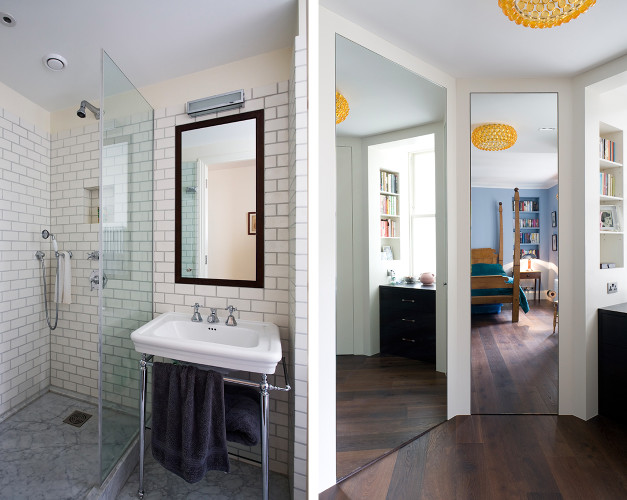 This is the concept design layout, which was largely implemented.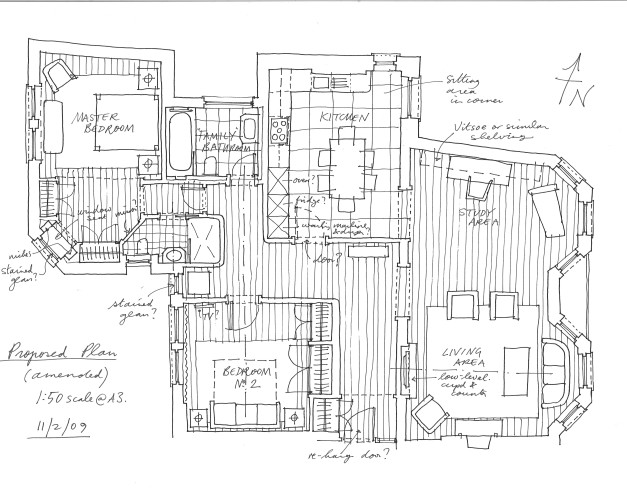 This is a concept design sketch of the living room, showing the three new matching openings on the west side.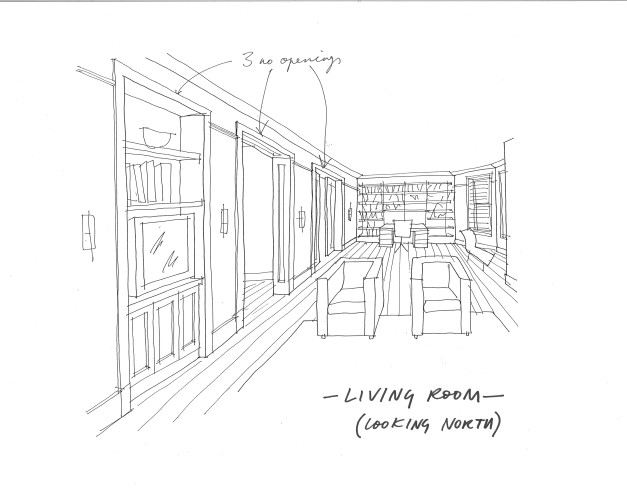 This is a concept design sketch of the master bedroom. The bed has been located on the wall opposite the dressing area.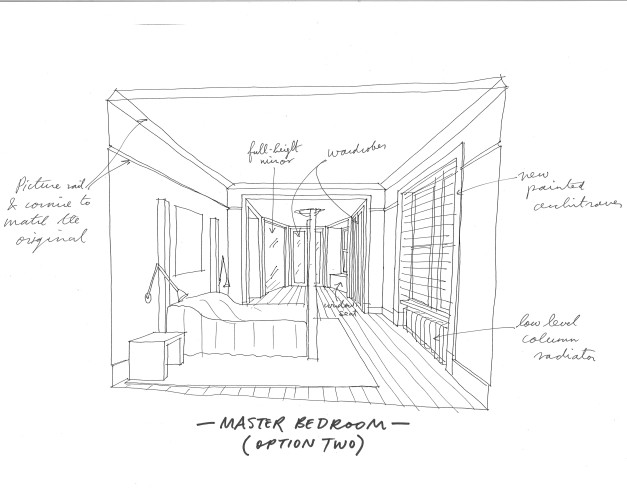 These are some concept design sketches of the master shower room.