The Old Aeroworks
London NW8
This project involved the renovation and remodelling of a 1990's loft apartment within a 1920's former aircraft parts factory.
Although the overall plan remains unchanged, a number of upgrades and 'tweaks' have been implemented to make the most of the space.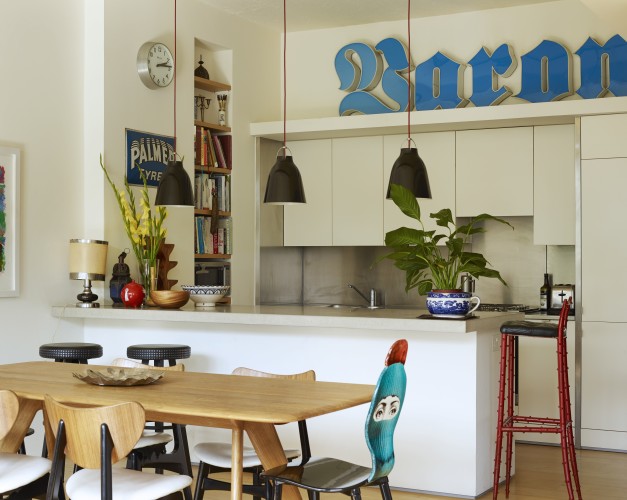 A canopy detail wraps around the kitchen hiding a staircase bulkhead in the adjacent flat. On this rests a backlit sign from the late Baron of Piccadilly menswear shop.
A chunky concrete counter, formed in-situ, sits atop an extended island unit and complements the industrial aesthetic.
A partition to one side of the kitchen and Entrance Hall has been stripped-down to the bare blockwork and painted dark grey. This contracts with the off-white paint colour in most of the apartment.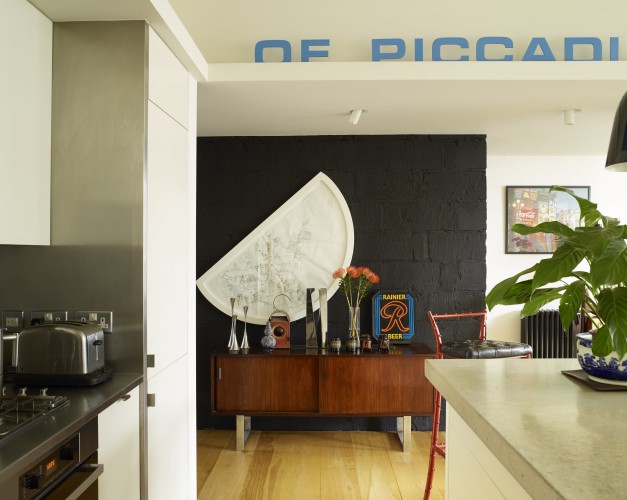 A variety of 'objets' sit atop a mid-century sideboard. The moon-shaped artwork behind is a memento of an enjoyable dinner in New York City - a sketch on a paper tablecloth of an imaginary Italian/Japanese village by Byron Bell.
The Steinway piano is located close to the French windows and 'Star Spangled' by Gillian Ayres.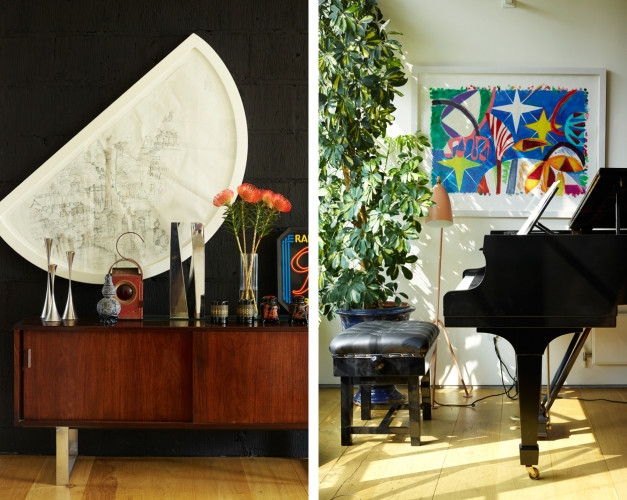 The space benefits from three metre ceilings and large Crittall windows. A couple of the original concrete columns are exposed within the main living space.
A number of Fornasetti pieces are dotted around the apartment, as well as a 'log chair' by the Korean sculptor, Jaehyo Lee.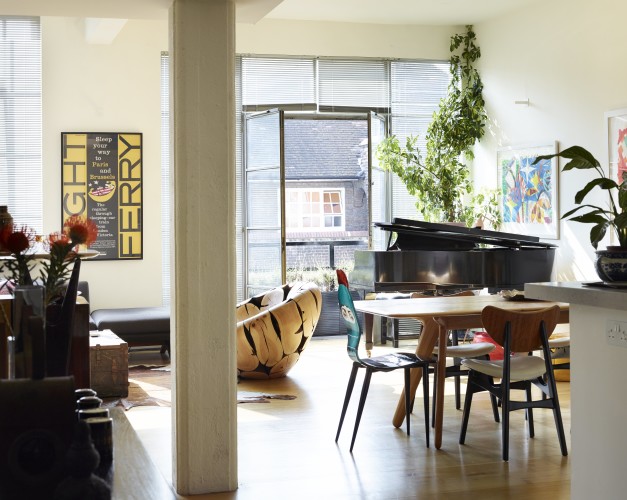 A 'Hepburn' corner sofa by Matthew Hilton, a 1920's steamer trunk, cow hide rug, vintage theatre lamp, and the aforementioned 'log chair' define the sitting area. The fabric artwork behind is from the Côte d'Ivoire.
A jaunty 1950's cocktail bar sits beneath the ceiling canopy detail, and adjacent to some antique mirrored Crittall windows.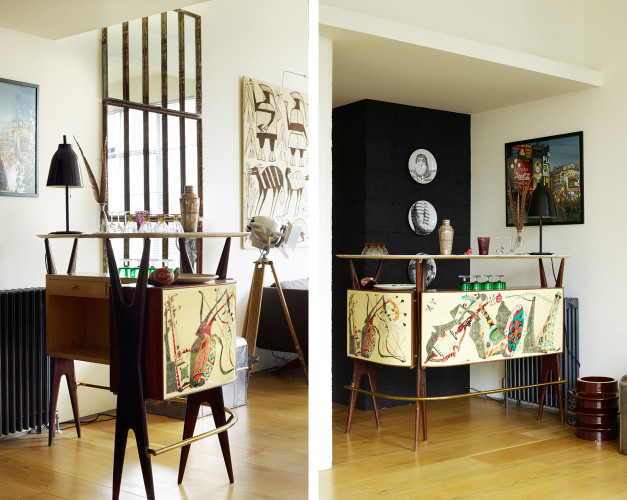 A teak Brazilian chair, recovered in Fornasetti fabric, sits adjacent to some Vitsoe shelving and a Crittall window in the spare bedroom/study.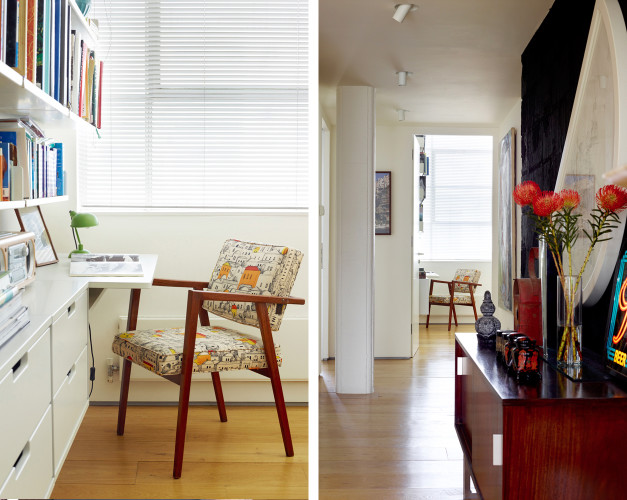 The Fornasetti theme continues with the bedroom wallpaper, offset by a gold leather headboard and black fur bedspread. The artwork was specially commissioned from Malika Favre.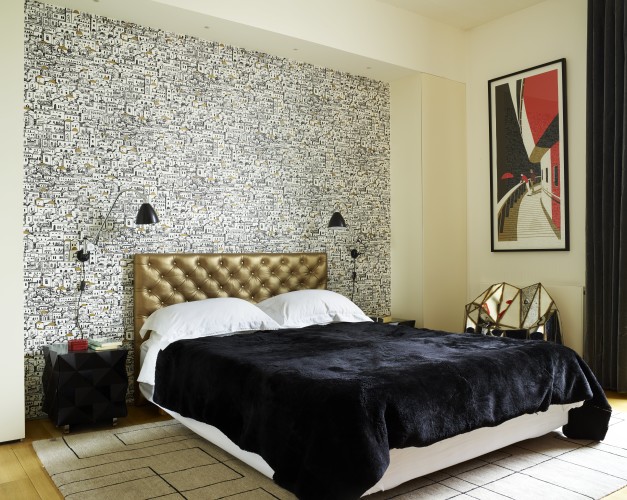 The bedroom cabinets are by Joel Escalona and the stainless steel chair is a prototype by Julian Mayor.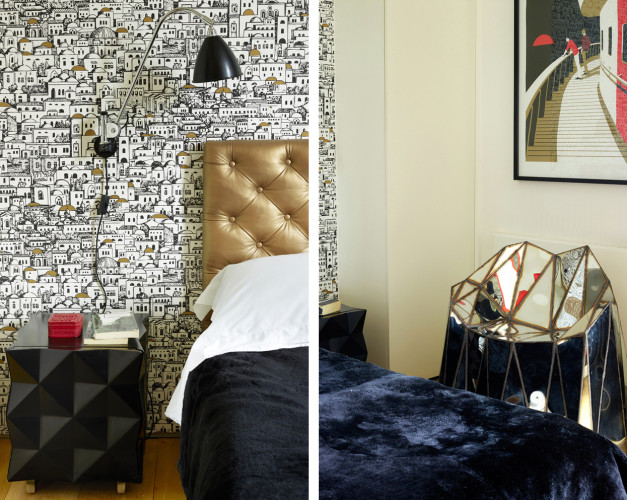 A tall mirrored sliding door leads to the Master Bathroom, with Carrera marble floor slabs and a bath surround and off-white 'crackle-glaze' tiles.
The red armchair was picked-up at an antiques shop in Le Touquet.
The exterior of the building was remodelled in the 1980's by Sir Terry Farrell soon after its closure as the Palmer Aero Works. During the war, rubber components for Spitfires were manufactured here; and many years later, for Concorde.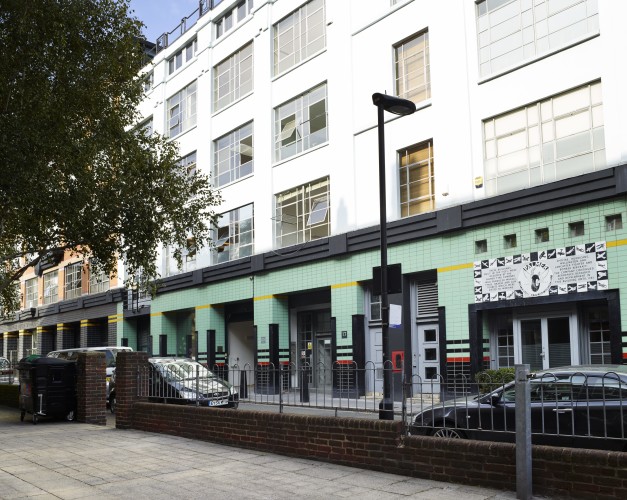 This is an early sketch showing the design of the kitchen area. A tall niche, adding a touch of verticality and useful storage space, was formed within a services duct.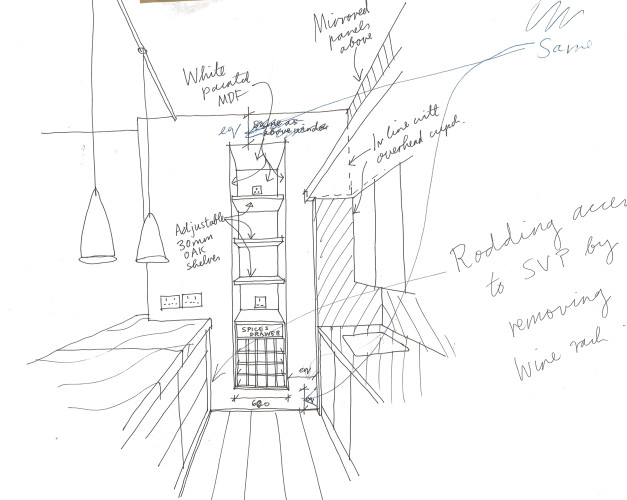 This sketch shows the setting-out details of the storage niche and kitchen units.
This sketch shows the arrangement of the kitchen and new canopy.