The Well House
Marlow, Buckinghamshire
This 1930s former stables block is located within the grounds of a sixteenth century farmhouse in a very picturesque valley close to Marlow, Bucks.
The property was rather unimaginatively converted into a family home in the 1980s. A succession of low-ceilinged rooms opened off each other with no central focal point. The extensive roof space was largely blocked-off and unused.
Our brief was to make more efficient use of the available space, create a series of contemporary spaces, and subtly improve the external appearance.
The entrance hall doubles as a formal dining room and is located adjacent to the kitchen and ancillary quarters. New bi-folding doors with oak reveals open onto the rear garden. Discreet storage is provided behind the white-painted panels to either side of these doors.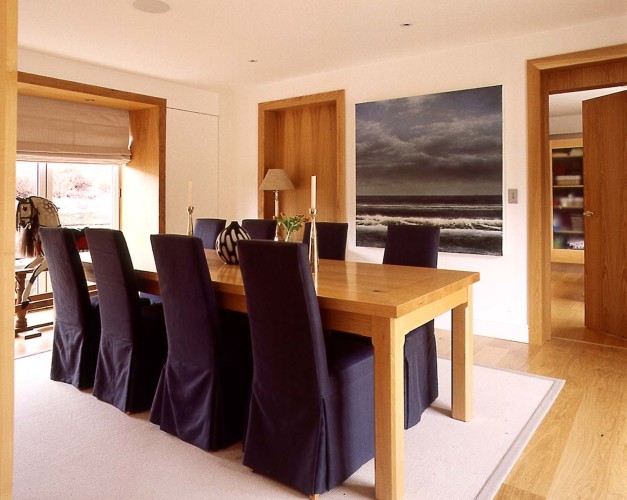 The large double-height living room provides a much-needed focal point to the house. Oak-lined recesses with bi-folding doors open onto the front and rear gardens, and new engineered hardwood floorboards site on piped underfloor heating.
An oak staircase leads up to a new mezzanine area. One of the mirrored panels to the side opens to reveal an inner lobby off which a gym and three bedroom suites are located.
Structural glass balustrades to the sides of the staircase and mezzanine maximise views of the living room beyond.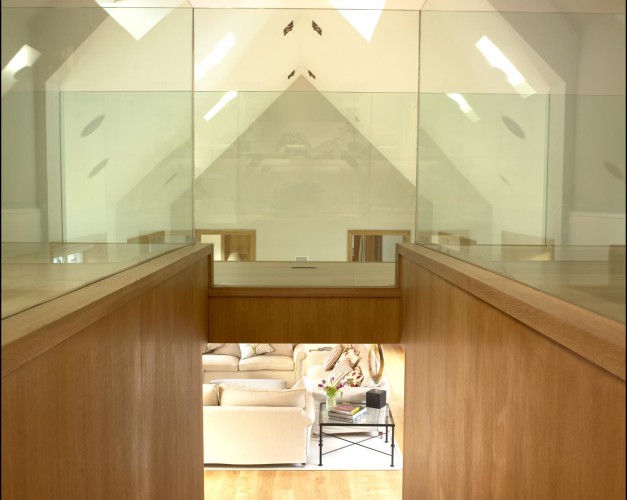 A door in the mezzanine opens onto a corridor lined with bespoke wardrobes. This leads to the master bedroom and bathroom beyond.
The master suite has been created out of formerly unused attic space. The habitable floor area of the property has thus been increased by around a third without extending the original building.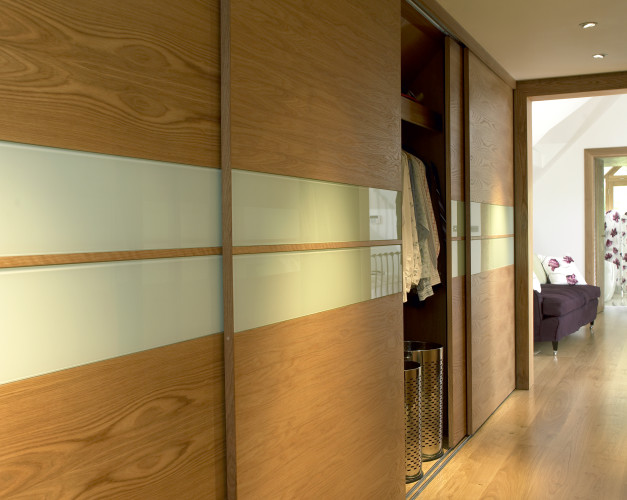 The master bedroom is lit via a new oak window within an existing side gable, behind the bed. An oak-lined doorway, aligning with the dressing corridor opposite, leads to the master bathroom.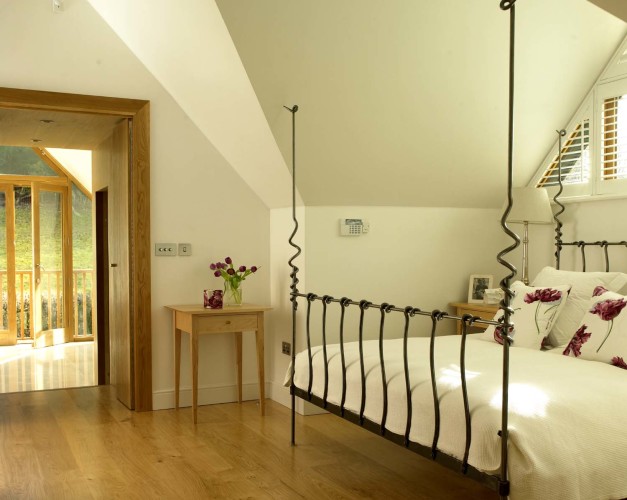 The master bathroom is a spacious and sunny room with a new window and French doors opening onto a new cantilevered balcony. A stone vanity counter and bowl basins are located to one side; WC and shower cubicles are located at the bedroom end, and a freestanding bath in the centre of the space.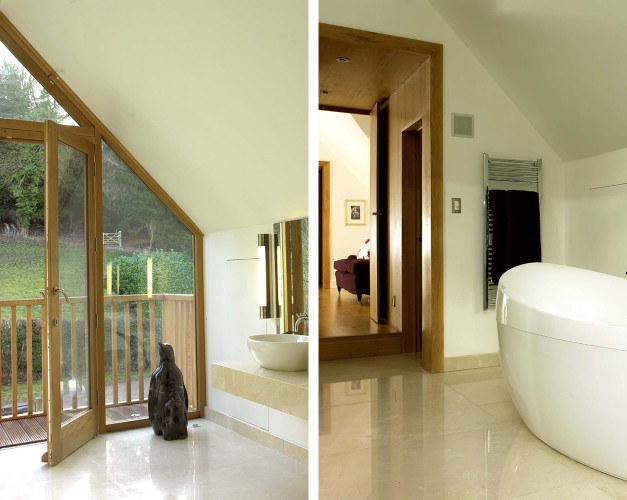 The family bathroom is located at ground floor level, next to the gym and three bedrooms suites.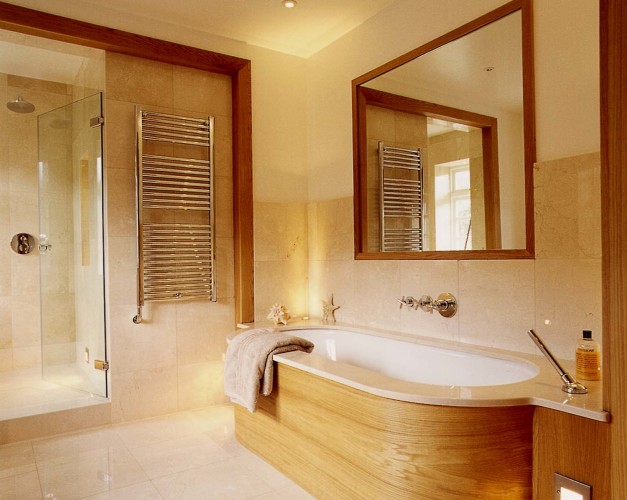 This is the ground floor concept design layout, which was largely implemented.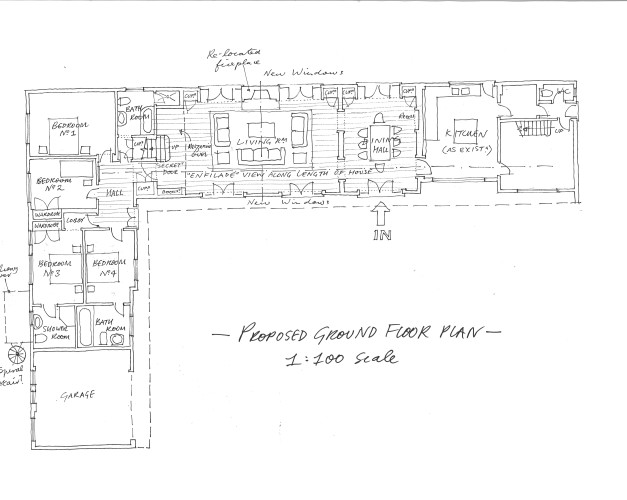 This is the first floor concept design layout; the master suite on the left hand side was created out of unused attic space. The balcony was moved to the bathroom end-elevation.
This is a concept design sketch of the living room, looking towards the dining room and beyond.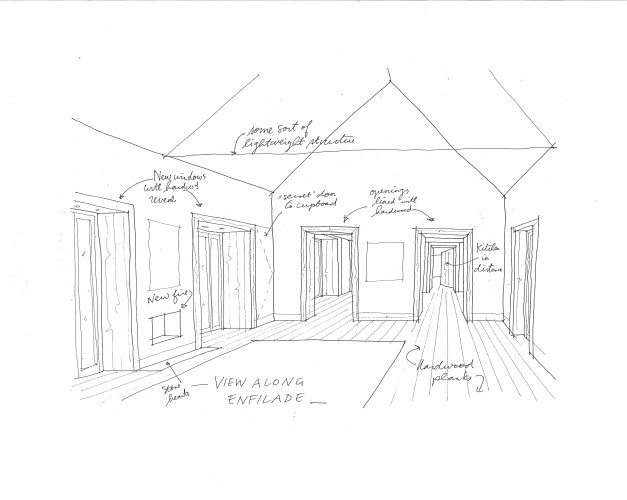 Here are external elevations, outlining the changes to the original building.